On this page we want to introduce you to the Samsara system and how we have integrated it into My Fuel Tax GPS.
Samsara provides a full fleet management system which includes a State Mileage Reporting feature. The mileage reports can easily be imported into My Fuel Tax GPS.
Key benefits include:
One step import of Miles in State. No need to enter miles manually, no worries about data entry errors.
How to use our Samsara interface
The Import for Samsara is done using the Data Wizard button.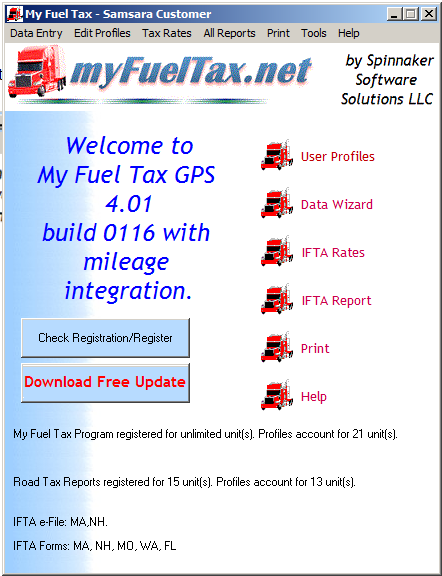 When you click it, the data wizard comes up: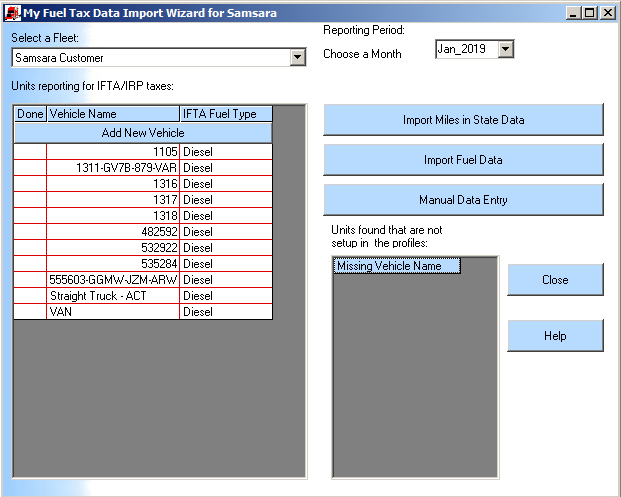 The Data Wizard Dialog consists of the following:
The "Select a Fleet" Dropdown box – This will show the company name once the UserProfile has been initially set up. If there are more than one company to run IFTA reports for, and multiple UserProfiles have been set up, the dropdown box will list multiple companies.
The Reporting Period – You have to choose a month to collect data for.
The "Units Reporting for IFTA/IRP taxes" Data Grid – When you import trip data from Samsara, My Fuel Tax will only collect data for the units both listed in this box and that also match the units in Samsara's State Mileage Report. The "Done" column on the left gets an X mark if you want to exclude that unit from data collection. Clicking "Done" in the upper left hand corner toggles between selecting all or deselecting all units.
The Units Not Found Data Grid – When you import data from Samsara, My fuel Tax will list any unit found in Samsara's data that is not found in the selected fleet. If you want to add one or more of these vehicles you can simply drag a vehicle not found and drop it in the Reporting Grid discussed above. The vehicle should be dragged to the button labeled "Add New Vehicle".
Manual Data Entry – This button will open the manual Trip Entry dialog where you can enter fuel gallons purchased by vehicle and by state. Once we receive .txt or .csv formatted fuel reports from fuel card companies we will adapt My Fuel Tax to import fuel gallons and eliminate this manual entry also.
You click on the "Import Miles in State Data" button, and you find your Samsara Multi State Mileage Report for the month you specified in the "Choose a Month" box.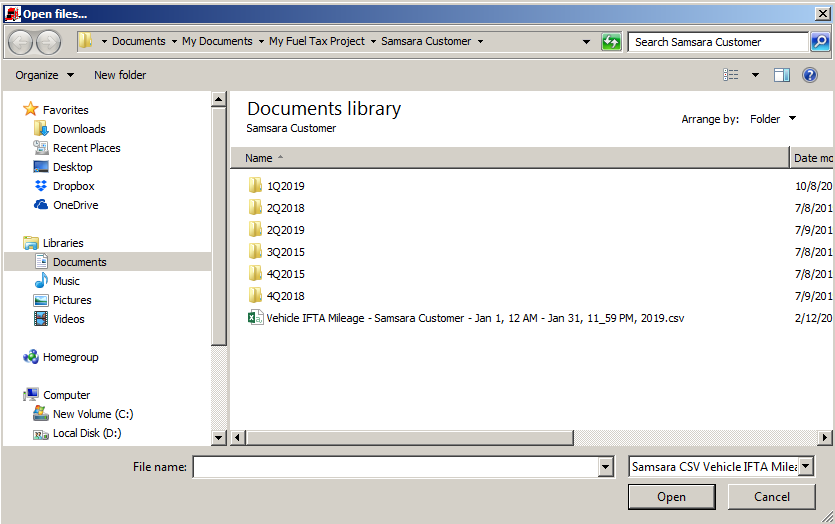 You click "Open" when you selected the file you need, and the import is executed. When it's done you get this message box: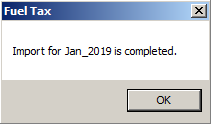 After you click "OK", please note the there is an "X" mark next to the Vehicle Names in the list on the left. this means that import for these units was already done.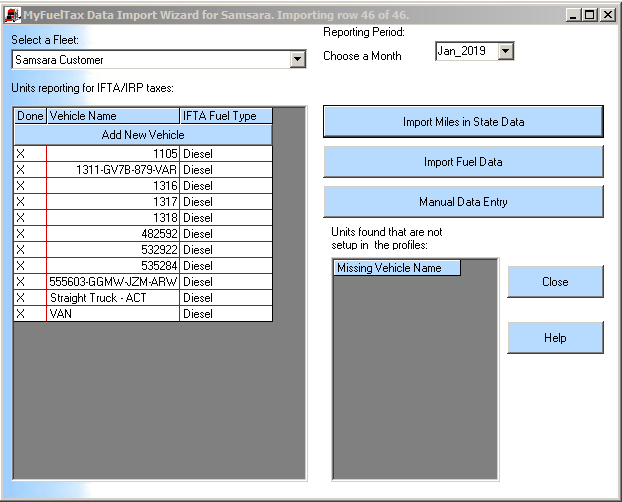 Now we click on "Manual Data Entry" to check the results: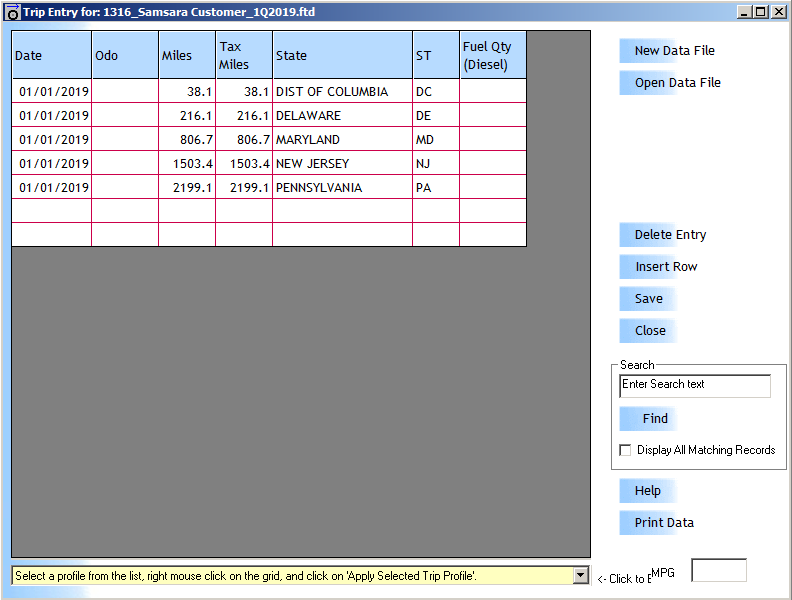 Please note:
As mentioned above, you still have to enter your fuel for all trucks before you can run the IFTA Report.That's all there is to it. You can close this dialog, close the wizard, and click on IFTA Report to run the IFTA report, save it, and then Print it to the Form for your jurisdiction.